Off Boracay Base Camp
The Mainland adventures basecamp started as a project of passion with a few small huts in the jungle on a meandering river.
Have you ever been a part of something so wonderful that you had to share? For many years our carefully curated natural environs served as a private retreat; being able to enjoy areas outside of Boracay, as well as the island itself was absolutely wonderful.
The retreat slowly grew through the challenges of living in the jungle; until base camp came to be the relaxing nature & adventure retreat that it is today.

The Immediately local environment
Base camp sits on a quiet river which hosts several types of fresh-water marine life; most of which you can find snorkeling on a sunny afternoon. Tall stands of coconut trees surround the camp, and the inside area is grassy and flat. The grounds are easily enjoyable for both young and old. Speckled within the grounds are several one, two and three-floor natural bamboo structures.
These are commonly referred to as huts, but that doesn't really suit what our structures are. The "huts" have been carefully constructed by some of the best local craftsmen and artists. They were built using nearly 100% local, natural building materials. You won't find a rusty tin shed roof, piles of rope and walls constructed from cheap, flimsy modern materials at base camp. Metro Filipinos and overseas travelers alike often find something beautifully primitive and peaceful about staying here. If you're wondering what to do in Boracay, leaving the island for base camp is seriously worth a try!
What can I do within the Jungle base camp?
A stay at base camp comes with several minor activities to keep guests occupied on site, such as snorkeling, board games, music, the occasional riverside fire.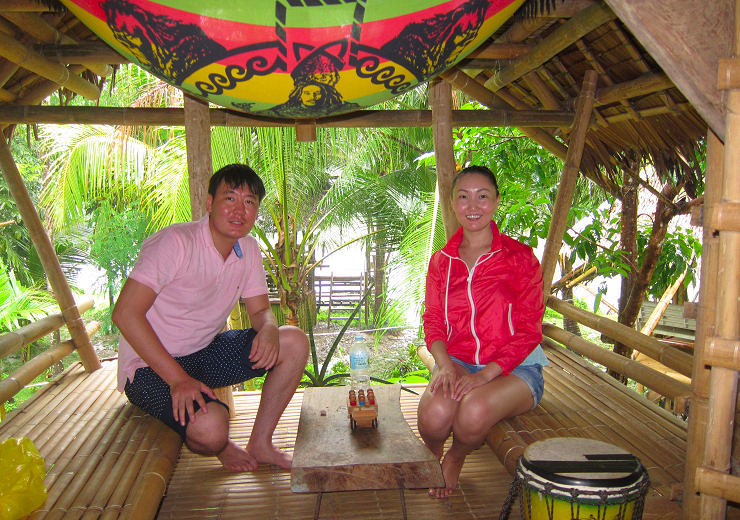 Inclusions
BBQ Lunch
Full use of Base Camp facilities
Coconut juice from the tree Tuba (Coconut Wine) tasting
Use of river lounge area
Round-trip transport from D'Mall
Exclusions
Hotel pickup and drop-off
Personal expense
Additional Info
Confirmation will be received at time of booking.
Children must be accompanied by an adult
Please wear comfortable footwear and extra clothes
Minimum of 2 people per booking is required
Departure point
Budget Mart D'Mall
Departure time
10am
Duration
8 hours (approx.)
Return details
At the end of the tour, our guide will bring you back to Boracay Port.
How do Add-on Activities work?
Guests can choose to relax at base camp all day or purchase additional add-on activities. We strongly recommend that you purchase your add-on activities beforehand to ensure availability, however, if you're just relaxing at base camp and decide you'd like to try something else we'd be happy to provide you with all the currently available options. Many can be purchased last-minute & there's usually something enjoyable for everyone. We will do our utmost to accommodate your adventure.
How do food and drinks work at the base camp?
With your basecamp package, you will also be entitled to a meal. Included in the meal are a few of our specialties such as Banana Heart, – grown, harvested and served locally. Basic alcoholic drinks are available for purchase on site at extremely reasonable local prices -p.50 for beers, p.50 for Rhum coke. Non-alcoholic drinks include Coke, Sprite, Water and coconut.
How about those add on activities?
Add more excitement to your base camp stay by selecting from one of our several add-on activities see below.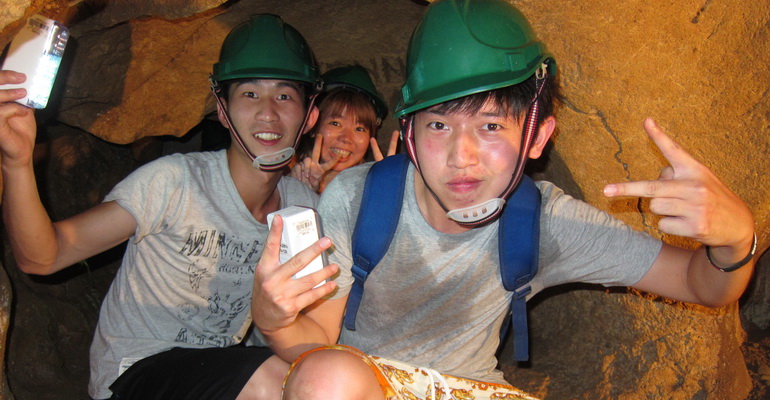 Cave Tour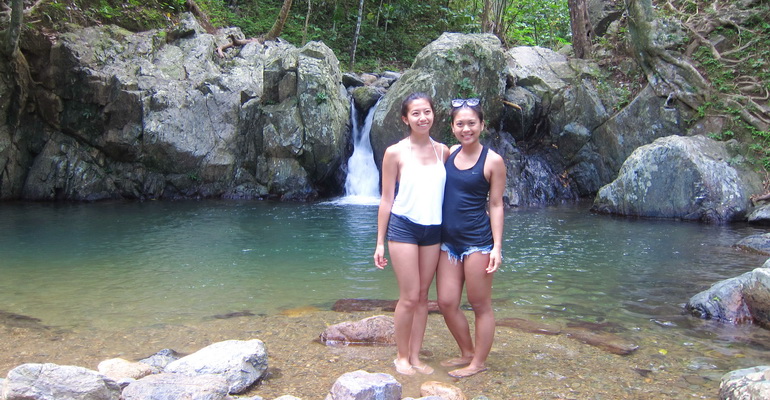 Agnaga Falls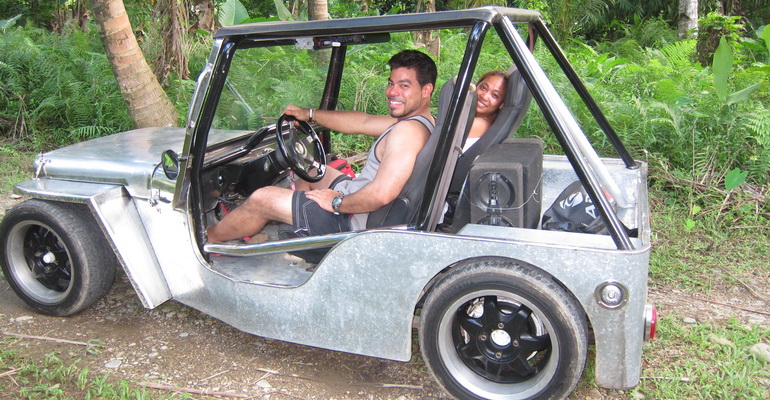 Custom Jeep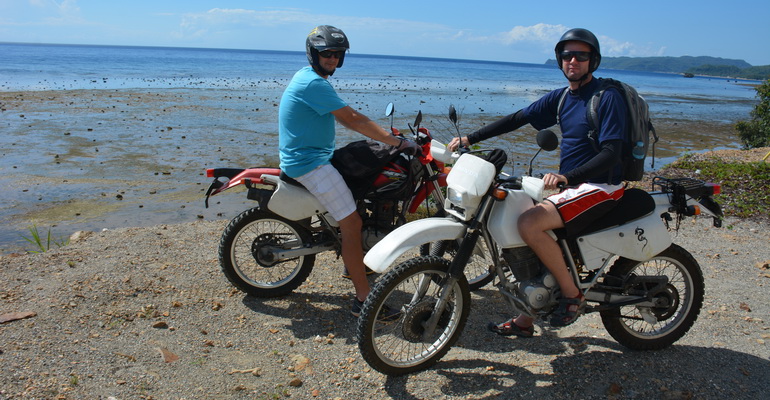 Large Motorbike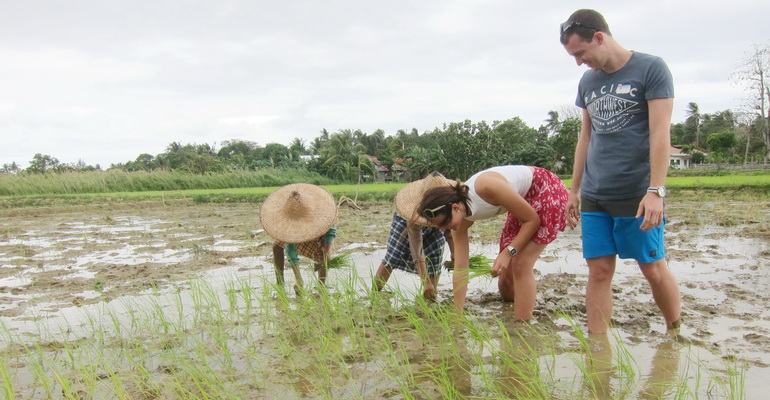 Motag Museum
Mountain Bike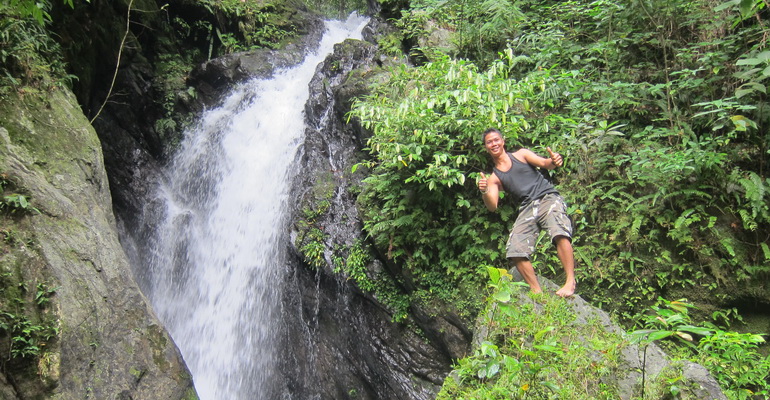 Nagata Water Falls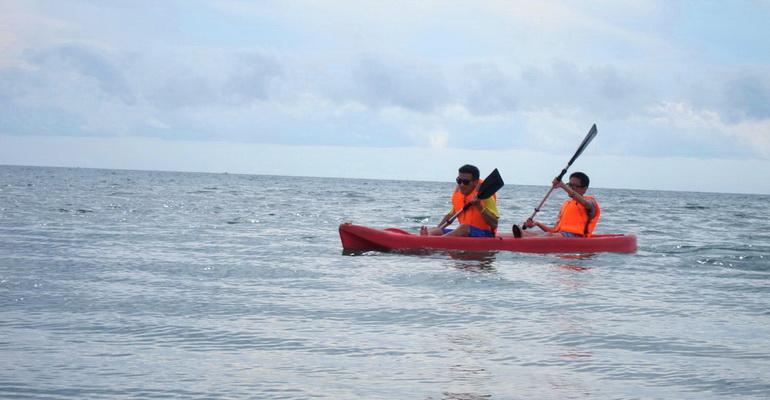 Ocean Kayaking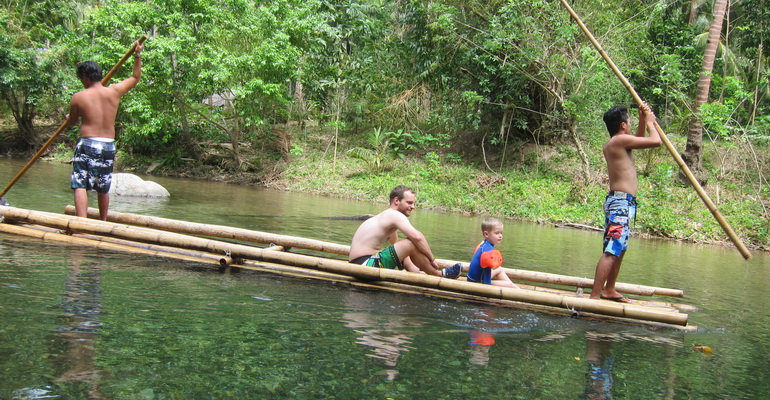 River Trek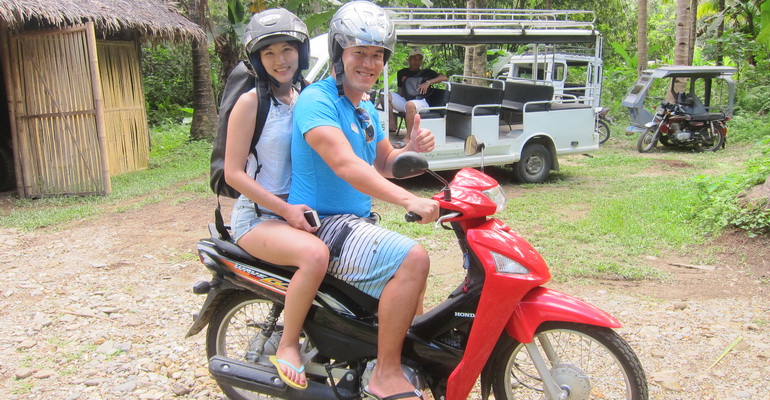 Small Motorbike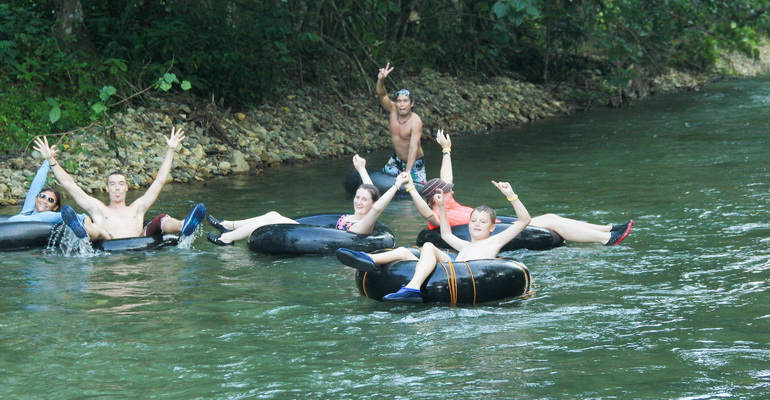 Wild River Tubing